Bistro Fourchette

Share this page:
Vero Beach, Florida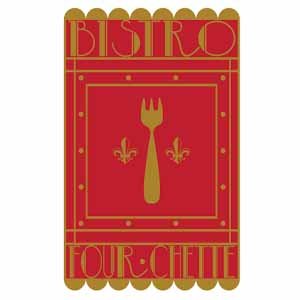 Visit Website
Bistro Fourchette
1309 19th Place
Vero Beach, Florida 32960
(772) 770-2071
Email Bistro Fourchette
Hours
Lunch: Thurs. & Fri.
11:30AM to1:30pm
Dinner: Tues. - Sat
5:30pm to 9:00pm
Tues-1/2 Off
Selected Wines

2 Reviews

Write a Review
If you enjoy fine French dining and specialty wines, you will love Bistro Fourchette!
Chef Stéphane Becht is a native of Alsace, France. He began his culinary apprentice at age 15 in a One-Star Michelin restaurant in Alsace, France. Since then he has been on a Three Star Michelin path- "Auberge de l'lll", Alsace, France, "Taillevent" Paris, France; "Luca Carton" Paris, France. La Grenouille, Café Centro, and The Pierre Hotel in New York City; L'Orangerie in Los Angeles; The Ocean Club at the One and Only Resort in the Bahamas, and the Delano hotel in Miami's South Beach.
After his position as Executive Chef of the prestigious Windsor Club in Vero Beach, Chef Stephane and his wife Loretta chose to settle in Vero Beach and open their own restaurant. Bistro Fourchette was the perfect size for them with 80 seats. As you near the courtyard you can't help but take in the fragrance of fine French dishes. It has all the atmosphere and charm reminiscent of a French Bistro only located in the heart of historic Vero Beach in the Seminole Courtyard on 14th Avenue.
The menu features dishes from different regions of France including Escargot, French Onion Soup, Mussels, Frisée au Lardons, Steak Frites, Charcuterie Board, Beef Bourguignon, Mousse Au Chocolat and Soufflés on weekends. Veal Liver, Bacon & Onions, Coq Au Vin, and Fish Quenelles are served as "Plat du Jour specials.
Lunch is served Thursday & Friday 11:30- 1:30 pm. Find your French favorites of Croque Monsieur/Madame, Le Parisien Sandwich, Quiche Lorriane, Crème Brûlée.
Treat yourself to an evening in France at Bistro Fourchette today
"see you at the bistro"
UPCOMING EVENTS