The Little Bug Boutique

Share this page:
Vero Beach, FL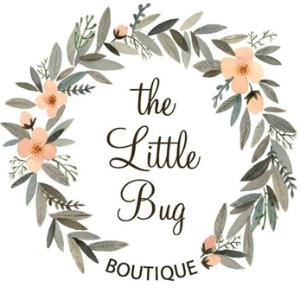 The Little Bug Boutique
1905 14th Ave
Vero Beach, FL 32960
(772) 999-3659
Email The Little Bug Boutique
Hours
Tues. - Fri. 10:00am to 6:00pm
Saturday 10:00am to 4:00pm

5 Reviews

Write a Review
The Little Bug Boutique: A Trendy Children's Boutique With Something For Everyone
Located in the heart of downtown Vero Beach, The Little Bug Boutique is the perfect children's boutique. Filled with a blend of traditional, modern, sophisticated, fun and creative prints, there is something to find for everyone's taste in style.
As you walk into this little wonderland, the whimsical displays catch your attention, and lead you to discover the most adorable styles ranging from premie up to 6 toddler. Little bears on swings hanging from the clouds, set the mood in this very airy, and playfully quaint space.
Everything At The Little Bug Boutique is Individually Selected
With most of the brands made in the USA, all clothing is individually selected and specifically curated with the idea of having trendy, dainty clothing that is made to be played in.
Incredibly soft swaddle blankets, teething necklaces, teethers, monthly stickers and books, closet dividers, scarves, headbands, bow ties, bandana bibs, and stuffed animal rattles are some of the extra accessories you will find in this magical children's store. Shoes, swimwear, and diaper covers, along with newborn headbands made of soft nylon elastic, may also be found here.
The Little Bug Boutique has brought the fun and artsy feel in children's wear and accessories to Vero Beach, all the while keeping prices fair and reasonable, and reaching a broad range of customers.
The Little Bug Boutique: Two Sisters Fun & Artsy Vision For Children's Wear
Having a very european feel, much of the clothing and accessories are unisex and make delightful and unique baby shower gifts as well.
As two sisters with one big inspiration sparked by children's fashion and the joy of a little girl, The Little Bug Boutique was found upon the idea of creating a space that would deliver an experience for shoppers to peacefully shop while finding unique and trendy items. Enthusiasts of children's apparel and accessories can come in and be able to find beautiful and fun prints for little ones to wear and have.
Attention to detail for every item in the store has been attained, with children's comfort and style in mind. This charming and intriguing children's boutique is the perfect addition to the Vero Beach community. Stop in today to find the most perfect and adorable children's items!