Scottish Society of the Treasure Coast

Share this page:
Vero Beach, FL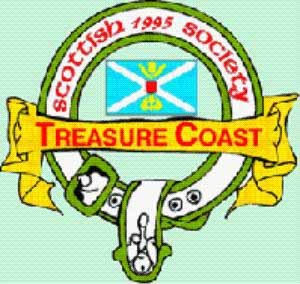 Visit Website
Scottish Society of the Treasure Coast
P.O. Box 5263
Vero Beach, FL 32961
(772) 231-5425
Email Scottish Society of the Treasure Coast
The Society
The Society is governed by a Board of Directors and an executive committee composed of officers and the immediate past president. The directors and officers are elected at an Annual General Meeting. There are several committees, each with special focus, and members find participation most rewarding.

Meetings
The Society holds monthly luncheon meetings, usually on Wednesdays. The programs are Scottish in nature, ranging from a video of the Edinburgh Festival to speakers on Scottish cooking, superstitions and education, some speakers being native Scots. A "Great Scots" program with biographies of famous Scots is presented annually.

Tours
The Society also sponsors tours to Scotland where members can visit areas of historical interest, churches, clan museums, battle sites, castles, and even special seating at the famous Edinburgh Military Tattoo. Trips to Nova Scotia for the Great Halifax Tattoo, to Pictou for a visit to The Ship Hector, and various Scottish Games are on the Society Agenda.

Scottish Clans
The Society encourages members to join their individual clan associations, participate in clan activitis and Plaids. Many members have their own clan banners.

Kirking
Each year, the Society sponsors a Kirkin' o' the Tartan at one of the local churches. This lovely ceremony includes a procession of the clan banners with a Piper playing traditional melodies. Members are the carriers of the banners, and a Scottish Reception is held afterwards, featuring tea, scones, and other Scottish delicacies.
Newsletter: The Treasure Coast Scotsman, is a monthly publication of the Scottish Societyof the Treasure Coast.
Membership: All persons interested in The Scottish Culture, such as Bagpipes, Kilts, Music and Art, and Scotland itself are encouraged to join. Please visit the website for application. Dues: $20 annually.