Vero Beach Yoga Barre

Share this page:
Vero Beach, FL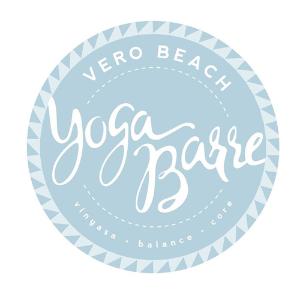 Visit Website
Vero Beach Yoga Barre
29 Royal Palm Pointe Suite 2
Vero Beach, FL 32960
(772) 696-1160
Email Vero Beach Yoga Barre
Hours
Mon. - Fri. 10:00am to 4:00pm

6 Reviews

Write a Review
Vero Beach Yoga Barre - The Story
As a culmination of two girls' passion for wellness, brought together by their friendship, Vero Beach Yoga Barre was founded. Amanda and Carly, the owners of the Vero Beach Yoga Barre, both instructors as well, have a deep understanding of yoga and barre, combined. Amanda's teacher training includes a 500 hr Certification with Margarida Tree, 25 hrs Intermediate Ashtanga Certification with Manju Jois, and Children's Yoga Teacher Training with Jaye Bryan. Carly, actually being a student of Amanda's from the age of 16, also has 200 hr teacher training with . With their training and passion, yoga has become an essential part of their lifestyle.
Vero Beach Yoga Barre - An Peaceful, Beautiful Yoga Studio Located on Royal Palm Pointe
As you enter Vero Beach Yoga Barre, you are greeted by a friendly, welcoming face, and positive energy. The calm and airy eclectic industrial studio features 1500 square feet of beautiful space, a dreamy oasis.

Offering two styles of classes, Yoga and Barre, with many variations of the two, and a total of 19 teachers: 3 Barre, 14 yoga, and 2 kids' yoga; Vero Beach Yoga Barre offers 47.

Yoga class , focusing on mindfulness and mind/body connection, begins with breathing and meditating sequences of poses, bringing you into a closing sequence and final rest - .
Benefits of a Barre Workout at Vero Beach Yoga Barre
Frequently referred to as a ballerina's workout, Barre class is incredibly beneficial for strengthening legs, arms and core in a unique way that isolates each part of the body, and targets muscles that don't often get used.

Incorporating Barre into a yoga studio, allows students to change up their typical yoga practice and develop flexibility and strength with a low impact, aerobic, 60 minute class. More specifically, with varying teachers on the schedule, each class begins with a dynamic warm up using light hand weights, followed by a series of exercises on the barre, originating from ballet. Class ends with core work on the mat, and a much needed stretch.

While the Vero Beach Yoga Barre's retail boutique, featuring top yoga brands including, Manduka clothing & Mats, Onzie, Alo yoga, volcano candles, Spiritual Gangster, & more, is open Monday through Friday from 10 AM to 5 PM, are posted on their website, as well as in the studio, and on the Mind Body APP.

All levels of yoga and barre are encouraged to come join Vero Beach Yoga Barre's classes in a peaceful environment to discover their strength, flexibility and balance.
COUPON
UPCOMING EVENTS
BLOG POSTS