Florida Public Relations Assoc, Treasure Coast

Share this page:
Stuart, FL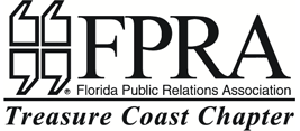 Visit Website
Florida Public Relations Assoc, Treasure Coast
P.O. Box 2678
Stuart, FL 34997
(772) 223-2600 ext. 3605
Whether you represent a small non-profit or are part of a team charged with being the voice of a major corporation, in order to remain relevant in Public Relations, staying on top of trends and best practices is essential. There is no better resource for this than the Florida Public Relations Association (FPRA).
As the oldest public relations organization in the United States, FPRA members represent a variety of organizations including private and public corporations, government entities, not-for-profits and independent practitioners. Statewide, FPRA boasts nearly 1,500 professional and student members, all of which make up the 15 professional and 11 student chapters.
The FPRA Treasure Coast Chapter provides you with local access to this world-class organization. Our Chapter is comprised of PR professionals from St. Lucie, Indian River and Martin counties. Throughout the year, the FPRA offers a variety of professional development and networking opportunities that will help you stay on top of trends and be a more effective communicator.
Membership benefits:
Reduced fees to chapter meetings featuring informative, relevant speakers and discussions
Access to free webinars
Accreditation and certification opportunities
Recognition through local and state awards competitions
Professional development and networking
Please visit the website for membership and event information!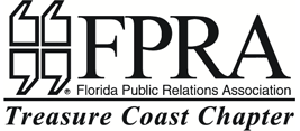 Visit Website
Florida Public Relations Assoc, Treasure Coast
P.O. Box 2678
Stuart, FL 34997
(772) 223-2600 ext. 3605
Visit Website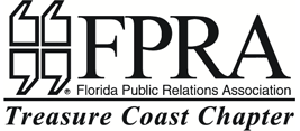 Florida Public Relations Assoc, Treasure Coast
P.O. Box 2678
Stuart, FL 34997
(772) 223-2600 ext. 3605
Share this page: