Sunbonnet Sue Quilting Guild

Share this page:
Vero Beach, FL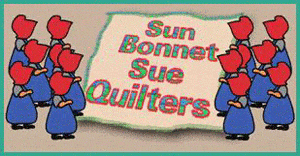 Sunbonnet Sue Quilting Guild
475 43rd Avenue
Vero Beach, FL 32968
(303) 506-0456
Email Sunbonnet Sue Quilting Guild
Write a Review
The Sunbonnet Sue Quilting Guild in Vero Beach Florida
The Sunbonnet Sue Quilting Guild welcomes anyone who is interested in the education and friendship of the quilting world. We are dedicated to preserving the heritage of quilting and to being a source of information and inspiration to our members and the public. We are a gathering place for anyone with these common interests regardless of their level of expertise. We meet weekly, engage in a number of charitable projects, and host a Quilt Show at the Fairgrounds in uneven numbered years.
Some of the quilts made by members are on display in Indian River County. You may have seen one at the Environmental Learning Center in Wabasso depicting the beauty of the surrounding area. The latest quilt on display is at the McKee Botanical Garden (Education Building) in Vero Beach. Many attractions in the garden are pictured in this quilt which measures 101" wide and 45" high.

The guild continues its commitment to the community by donating small quilts and stuffed animals to the Victims Advocate Unit of the Indian River County Sheriff's office. Since 2005 the Guild has made and donated nearly 1000 quilts and over 900 stuffed animals, which are distributed by victims' advocates responding to cases of family disasters.

Quilts and financial donations are also given to charities and organizations to raise funds and support their causes. At a recent Quilt Show, red, white, and blue quilted items were sold for the benefit of the local Veterans Council.

We invite nationally known teachers and member/teachers to share their special skills and display their work. We have "Show and Tell" monthly for those members eager to show their latest work.

Visit a meeting to find out more about the quilt show and how you can become involved in the art of quilting.

The Guild meets every Thursday from 9:30 am to 3:00 pm (many attend just for the morning) at St. Augustine Episcopal Church, 475 43rd Avenue, Vero Beach, Florida. Dues are $35 per year.

Enjoy the social gathering of people with the same interests. Create special friendships. Bring your own project or join in the fellowship of working on a charitable effort.

Everyone is welcome and we look forward to meeting you.

For more information about the Guild, please contact Linda Jackson by phone at (303) 506-0456 or email LindaJJackson2@gmail.com

Facebook –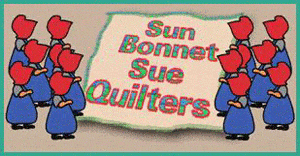 Sunbonnet Sue Quilting Guild
475 43rd Avenue
Vero Beach, FL 32968
(303) 506-0456
Email Sunbonnet Sue Quilting Guild
Write a Review
Contact Sunbonnet Sue Quilting Guild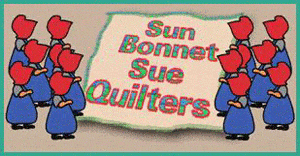 Sunbonnet Sue Quilting Guild
475 43rd Avenue
Vero Beach, FL 32968
(303) 506-0456
Share this page: