Vero Beach Bridge Center

Share this page:
Vero Beach, FL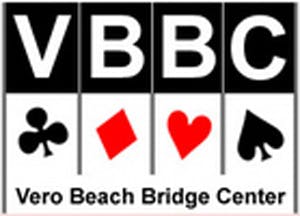 Visit Website
Vero Beach Bridge Center
1520 14th Ave
Vero Beach, FL 32960
(772) 562-3008
Email Vero Beach Bridge Center
Hours

1 Reviews

Write a Review
ABOUT THE CLUB: Founded in 1959, the Vero Beach Duplicate Bridge Club has grown to one of the largest sanctioned ACBL (American Contract Bridge League) clubs in the country. In 2016, the VBBC was the 8th largest bridge club in North America. The member-owned and operated club has more than 1,000 dues-paying members and hosts more than 11,000 tables of bridge per year.

The club, located at 1520 14th Avenue, was the site of the former Sabal Palm Bowling Alley. In 1995, members purchased the building and renovated half of it. The modern bridge facility has ample room for 75+ tables and in 2007, the club renovated another section of the facility that is used for additional playing areas, classrooms, and offices.

BRIDGE CLASSES: Multilevel bridge classes are held on Monday and Thursday mornings and Wednesday mornings. Lessons are from Beginner to Advanced are offered each month as well as several celebrity speaker events featuring bridge experts and authors such as Marty Bergen, Larry Cohen, Audrey Grant, and Barbara Seagram.

BRIDGE GAMES: The Club holds a variety of bridge games for every level, seven afternoons and two mornings each week, including two student games for beginning bridge players. The club also plays host to three Sectional tournaments per year.

CLUB DETAILS LISTED BELOW:
· Classes: For details about our classes, contact VBBC at (772) 562-3008.
· Bridge Game Fees: Members - $7, Non-members - $12
· Membership Dues: $35 per year. Call (772) 562-3008
· Don't have a bridge partner? Weekday 1 p.m. open games have a designated player, you can just show up by 12:45 and the designated volunteer standby player will match you up or play with you themselves. Please arrive earlier if possible to allow for time to pair up and to fill out a simple convention card.
· For further information on games, schedules, membership, and other details, or to view the monthly newsletter, visit our website: Verobridge.com, or email the club at: Verobridgeclub@comcast.net.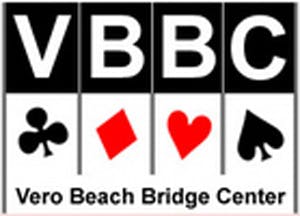 Visit Website
Vero Beach Bridge Center
1520 14th Ave
Vero Beach, FL 32960
(772) 562-3008
Email Vero Beach Bridge Center
Hours

1 Reviews

Write a Review
Contact Vero Beach Bridge Center
Visit Website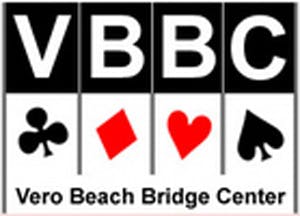 Vero Beach Bridge Center
1520 14th Ave
Vero Beach, FL 32960
(772) 562-3008
Share this page: