A Moment's Notice Health Care

Share this page:
Vero Beach, FL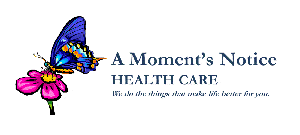 Visit Website
A Moment's Notice Health Care
989 37th Place
Citrus Medical Plaza
Vero Beach, FL 32960
(772) 978-9092
Email A Moment's Notice Health Care

3 Reviews

Write a Review
"There's No Place Like Home"

If you or a loved one requires continuing care, the best place to be is at home. In your own home, you are close to what means the most to you – family, friends, and your special belongings. Home health care can make it possible for a recovering patient to come home sooner and can help the chronically ill or disabled patient remain at home in familiar surroundings

A Moment's Notice Health Care can provide care to the elderly, ill and homebound on an hourly basis and families can have peace of mind knowing their loved ones will receive daily care while enjoying the privacy and independence of their own home. They also provide Live-in Service for those patients who are able to sleep through the night and desire the feeling of security that comes from the services of a full-time, live-in companion.

Their mission is to provide a high level of independent living for each patient in his or her own home. A Moment's Notice Health Care strives to place caregivers who are compatible with our patients and to deliver services in a compassionate manner. They offer custodial care by Certified Nursing Assistants (CNA's), Home Health Aides (HHA's), and companion Sitters who follow your physician's instructions and work to assure the well being of the patient. Some of the services provided include bathing, exercise, hair care, laundry, meal preparation, general assistance, light housekeeping and transportation.

Each case is personally supervised by a Home Care Registered Nurse and her team and is coordinated with the patient's physician and family. A Moment's Notice Health Care is fully accredited and licensed by the State of Florida, Agency for Health Care Administration. Please contact them with any questions you may have. They can be reached 24 hours a day and office staff will be glad to talk with you and answer your questions.
One of the areas oldest home health agencies
Locally owned…..Community based
Regular visits by our staff Director of Nursing Services
Individualized Care Plan
24 hour – 7 day availability
Staff is trained, compassionate, bonded, insured, and covered by Workers' Compensation
Local provider of Health Watch (an in-home emergency response system)
A unit of Atlantic Coast Healthcare, Inc.
Can be reached at (772) 589-7429 in Southern Brevard County
Lic #HHA20007095
BLOG POSTS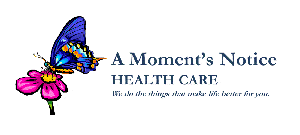 Visit Website
A Moment's Notice Health Care
989 37th Place
Citrus Medical Plaza
Vero Beach, FL 32960
(772) 978-9092
Email A Moment's Notice Health Care

3 Reviews

Write a Review
Contact A Moment's Notice Health Care
Visit Website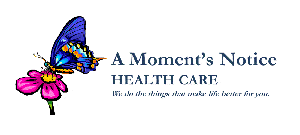 A Moment's Notice Health Care
989 37th Place
Citrus Medical Plaza
Vero Beach, FL 32960
(772) 978-9092
Share this page: