Dogs For Life, Inc.

Share this page:
Vero Beach, FL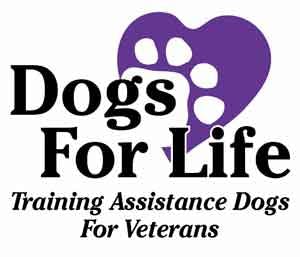 Visit Website
Dogs For Life, Inc.
1230 16th Ave
Vero Beach, FL 32960
(772) 567-8969
Email Dogs For Life, Inc.
http://www.dogsforlifevb.com
Write a Review
Dogs For Life, Inc. was founded to improve the quality of life for people and dogs through the training of assistance dogs, pet therapy dogs, and the owning and operating of an off-leash dog park. Since 2001, Dogs For Life has been turning lives around by providing independence and self-reliance for people who need assistance. At the same time, we've been able to provide a renewed purpose for abandoned dogs through specialized training. Dogs For Life trained assistance dogs enrich people's lives – providing ears that hear smoke alarms, paws that tap a 911 button to call for emergency assistance, and legs that provide added mobility. And the fastest growing need for assistance dogs in Florida is among the brave men and women who have served in the United States military.
In response to the growing needs of veterans, Dogs For Life has taken action and developed a plan that will expand the assistance dog program. To execute this plan, they have built a self-sustaining training Center, located on our 4+ acre Off-Leash Dog Park campus at 1230 16th Avenue in Vero Beach, FL. The 2,400 sq. ft. air-conditioned center enabling additional revenue-generating programs, including year round private companion dog training, and additional services that help to maintain the campus and provide support for services and programs. Additionally, the center includes office space for staff and volunteers, a canine assessment center, and rest station facilities for dog park guests.
To help Dogs For Life fulfill their vision for the future make a tax-deductible financial contribution to support operations and programs for the new Dogs For Life Assistance Dog Training and Administrative Center by going the website and donate.