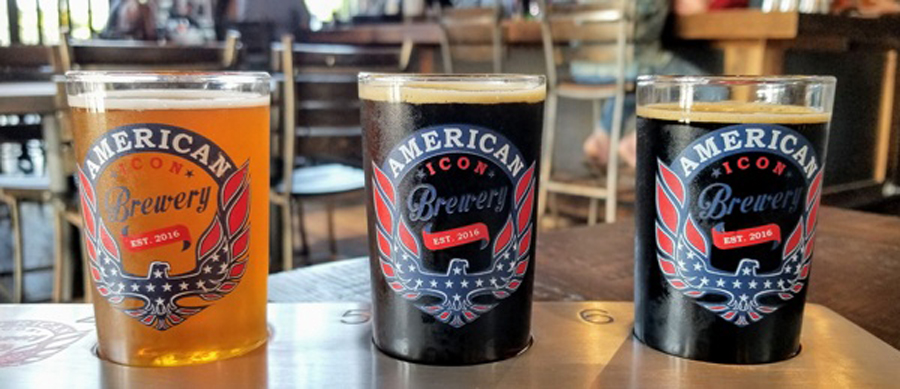 American Icon Brewery - Review Share this page:

Posted: December, 16, 2020 | Author: Thomas Miller, The Treasure Coast Foodie | The Treasure Coast Foodie & Savor Club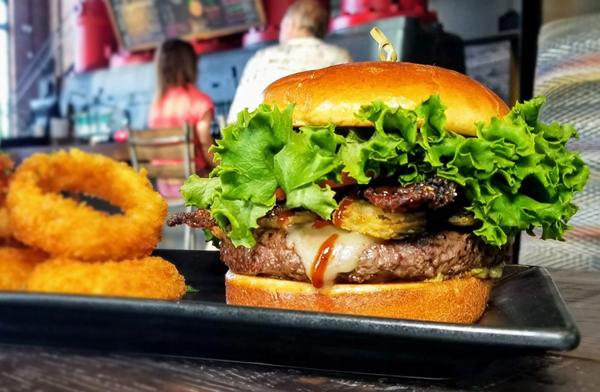 Located on a two-acre site in downtown Vero Beach, American Icon Brewery is one of the most unique breweries you will find in the area.

They've been open for almost 3 years now (opened fall of 2017), and the place has atmosphere to spare.

Owner, Michael Rechter, a real estate developer, investor, and entrepreneur from South Florida spared no expense when remodeling this historic building. Rumor has it that he spent close to 6 or 7 million dollars on this project.

From the industrial designed interior, an old 750-kilowatt diesel engine generator being transformed into where the beer taps are, and a gastropub inspired menu, how does this place stack up to the rest?

Is there even anything we can compare it to?

American Icon Brewery resides in Vero's oldest municipal building. It was the former diesel power plant built in the late 1920's.

The inside of the building is an open concept design and has a very industrial feel. A large bar surrounds the diesel engine with a mix of booths and tables across the rest of the first floor. They do have a loft area with additional tables and a room you can rent for business meetings or small parties.

A new menu was just recently released, and I was there to check it out and sample a few of their beers too!

BEER TASTING NOTES (left to right in photo)
#1 – Peach Bum Berliner Weisse – ABV 5.2% – IBU – 6
Tasting Notes: Very peachy in both flavor and aroma. Easy to drink with a slight kick on the finish. Wonderful on a hot day!
#2 – Freedom Torch Milk Stout – ABV 6% – IBU – 40
Tasting Notes: Chocolate and dark fruit come together in balance with a creamy mouthfeel and sweet finish balanced by a slight roast.
#3 – Hot Shot Lincoln – ABV 10% – IBU – 70
Tasting Notes: Minimal aroma, fairly sweet with chocolate and coffee notes, not as bitter tasting as you would think with an IBU of 70.

The Cowboy Burger (pictured in smaller photo)
The burger patty is a combination of chuck, brisket, and short rib mixed together and chargrilled, then topped with pepper jack cheese, peppercorn candied bacon, fried jalapenos, BBQ sauce, lettuce, tomato, avocado crema, and served on a Brioche bun.

American Icon Brewery
1133 19th Place
Vero Beach, FL 32960
Tel (772) 934-4266

---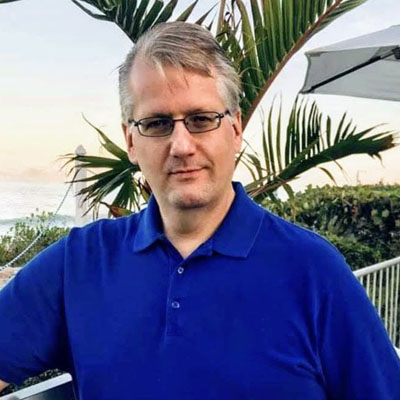 About The Author:
Thomas Miller, The Treasure Coast Foodie
Thomas Miller, aka "The Treasure Coast Foodie" is a noted restaurant reviewer, blogger and professional food photographer. Each year he is invited by Disney to review at EPCOT International Food & Wine Festival in Orlando.

Miller has a large local foodie tribe and organizes VIP Foodie events that are among the Top Culinary experiences in Vero Beach and Indian River County. Miller is also founder of SAVOR CLUB, a membership club offering discounted dining opportunities from Sebastian & Vero Beach through Stuart, Florida.
Visit My Site