Sebastian River Exterminating

Share this page:
Sebastian, FL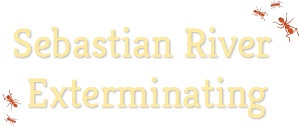 Visit Website
Sebastian River Exterminating
950 Yearling Trail
Sebastian, FL 32958
(772).228-9969
Email Sebastian River Exterminating
Hours
Mon. - Fri. 8:00am to 6:00pm

1 Reviews

Write a Review
Sebastian River Exterminating proudly provides the Indian River County with quality pest control and extermination services. Bill Forte understands that pest infestations can be very unpleasant and keep you from living your life. That is why he focuses on using effective equipment and safe chemicals to get rid of the problem. By getting rid of the whole problem and ensuring pests don't have a chance to come back, Bill is able to bring his clients peace of mind and no worries of a repeat infestation.
Services Include:
Specializing in Ant Control – especially hard to get rid of ants
Ghost Ants
Carpenter Ants
White Footed Ants
Big Headed Ants
Fire Ants
Pharaoh Ants
Argentine Ants
Tawny or Strawberry Crazy Ants
Roach Control
Spider Control
Silverfish Control
Wasp Control
Yellow Jacket Control
Flea Control
Tick Control
Mice Control
Rat Control
Bee Control
Minor Animal Exclusion Eradication
This includes rats, mice, squirrels, racoons, possums, etc.
Treatment Plans
Treatments available for residential clients include: annual, semi annual, tri-annual & quarterly.
Treatments available for commercial clients include: bi-monthly & monthly.
These treatments include protection against ants, spiders, roaches, silverfish & common insects.
Interior:
Attics/crawl spaces
Wall voids in kitchens
Voids under cabinets
Around water pipes underneath sinks
Bathrooms
Water lines connecting to toilet
Around shower-head
Laundry rooms
Around hot water heater
Exterior:
Base of home and out along the ground 3-5 feet
All doors/windows
Garage
Soffit and eaves
Boxes on walls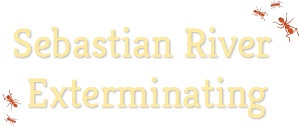 Visit Website
Sebastian River Exterminating
950 Yearling Trail
Sebastian, FL 32958
(772).228-9969
Email Sebastian River Exterminating
Hours
Mon. - Fri. 8:00am to 6:00pm

1 Reviews

Write a Review
Contact Sebastian River Exterminating
Visit Website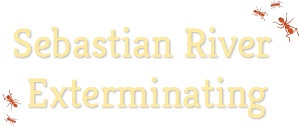 Sebastian River Exterminating
950 Yearling Trail
Sebastian, FL 32958
(772).228-9969
Share this page: