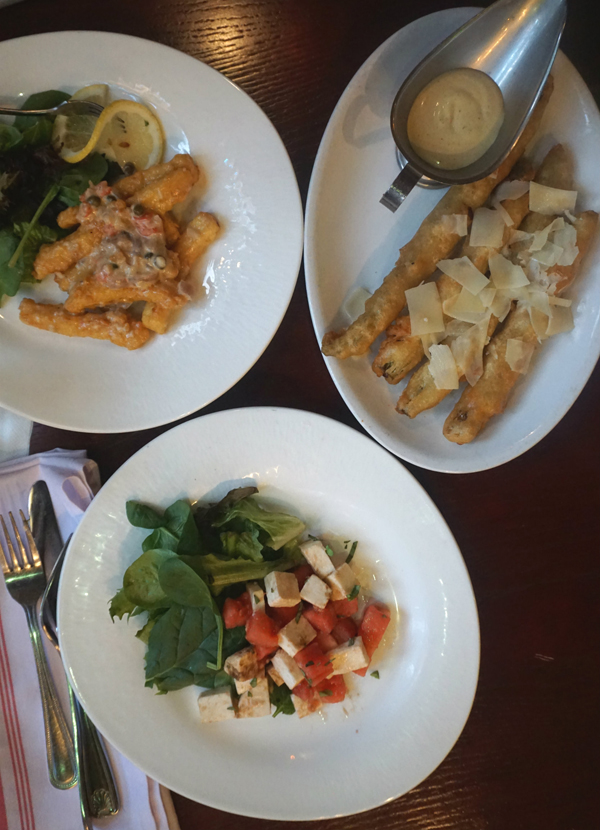 At (The Patio) in Vero Beach, you'll find more than just fresh seafood and a delicious menu. Upon entering the historic building, you'll also find a fun atmosphere and a little old Florida charm!
The Patio has a long and eclectic history. Built by Waldo Sexton in 1935, the first structure (where the Blue Room now is) was a strawberry stand. Finding a lot of success with his strawberry stand, Sexton began expanding his business by adding on more structures and food offerings. His first expansion was an ice-cream parlor (where current the Red Room stands).
Sexton continued to build additions to his original strawberry stand. He created a barbecue joint where you can now find The Patio's bar and then eventually, the actual namesake of the current building, the patio area. In the main dining room there are still traces of the original patio in the concrete floor, the blue tiles paying homage to Sexton and his innovative businesses.
In fact, much of the original building and decor that Sexton constructed are still intact. Most of the windows, chandeliers and other fixtures are originals that he sourced from all over Florida. History buffs and those just enjoying a fresh meal will enjoy skylights that Sexton procured from a Vanderbilt property and wood details that he retrieved from all over the state while he was adding on to his strawberry stand.
Besides a historic venue and colorful dining experience, The Patio also happens to offer fresh seafood in the heart of Vero Beach. While touring the building and talking with the manager, Bill I was also lucky enough to be able to sample some of their appetizers and entrees.
We started with the Flash Fried Calamari and the Asparagus & Parmesan. This is not your average calamari, this julienne calamari steak is tossed in a citrus beurre blanc, Sriracha, capers and tomato. The thick strips of calamari are perfectly breaded and seasoned and are a welcome departure from your typical calamari rings.
One of the entrees I sampled, the Shrimp & Lobster Scampi also pairs fresh seafood with innovative twists on traditional seafood dishes. Jumbo shrimp are sauteed and then laid-out on lobster ravioli before being covered in a rich and creamy garlic sauce. The Patio offers a full menu full of delicious seafood dishes, including Shrimp & Grits, Snow Crab Legs, Grouper, Salmon, and Ahi. All of the dishes are prepared with the freshest ingredients and great care for the flavors and the guests' dining experience.
While seafood is the main attraction, the eclectic restaurant also offers over ten different types of burgers, steaks and featured entrees such as BBQ Danish Back Ribs and Smoked Brisket. Their salads and soups also offer a lot of variety and you won't want to miss their mac n' cheese options, Truffle Mac n' Cheese, Lobster Mac n' Cheese and Eggplant Mac n' Cheese!
While The Patio has a long history in Vero Beach, the current Patio Seafood Tavern just celebrated their third year anniversary. The property is still owned by the Sexton family, but now serves much more than strawberries and ice-cream. For fresh seafood in Vero Beach and a one-of-a-kind dining experience, you won't want to miss this Vero Beach gem!