Florists
Find Florists in Vero Beach for any event or occassion here on VeroBeach.com!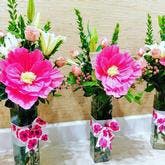 Deb's Flowers For You
4805 Hwy A1A, Vero Beach, FL 32963
ph:
(772) 231-6215
Flowers for You has been a landmark on Vero's beaches for over 30 years. Customers love to browse this eclectic "working" flower shop for ideas and gifts. The florists are never hidden, and the bouquets are never part of a factory line. Your arrangement has been made just for you. Deb and staff have decades of knowledge of floral innovation to make your day or event amazing!