Artist Spotlight - Romero
Posted:
December 7, 2016 |
Categories:
Arts & Culture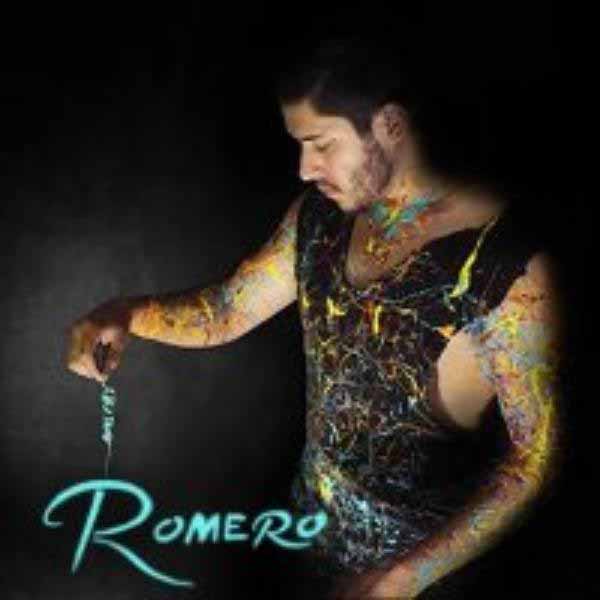 "There are a few times in history where an artist creates a new style of art. They are the innovators in their fields and usually the ones that go down in history. Most artists emulate a style, giving it their own flair but still copying the original concept. Then you have an artist like Romero who takes the technique of two major artists and combines them to create art. Splashing and dripping of paint in the style of Jackson Pollock without chaos and then using the visual technique of Claud Monet, by creating impressionist paintings that look photo realistic from a distance. So using technique rather than style an artist once again creates a new art form." ~ David Smith, Fine Art Publisher Dec. 2016
At 24 years old, with only four years painting history, Michael "Romero" (as they know him in the Fine Art World) Duran, is achieving super-star status extraordinarily quickly! Romero doesn't have some fancy art degree, he's a self-taught artist living in Nevada. Romero's style can only be described as stunning, gorgeous, and captivating; or, he is best known for creating his own style of painting he compares to a mix between Impressionism, Expressionism, Abstract and Realism. I mean, the young man literally just onto a canvas and creates these that have recently gone as high as $12,000 for one original at a Park West auction!
While Romero was busy painting away and listing his paintings on Craigslist for sale, little did he know, David Smith, the famed Art Publisher that discovered other famous artists such as , , , , and many many many many more, was keeping an eye on his Craigslist postings. Dave reached out to Romero, and the rest is history.
Could you imagine putting art that you devoted your heart into on Craigslist to sell & then to turning into one of the hottest current selling artists within a matter of months?! That's like every artist dream come true, like an artist happy ending fairy-tale! (P.S. We do carry Godard & DeRubeis' art in the gallery as well.)
isn't just an artist to watch, he's one to keep CLOSE tabs on, for all art collectors, seasoned & just starting collections. If you are into his work, ! We had an original on our wall for $2,800, it sold with Park West for $9,000. In the past few months alone, has sold out two of three auctions - and is the only the 2nd artist in HISTORY that Park West has given the GAVEL to for such success & accomplishment!
There is a really nice speech Romero gave after receiving the gavel traveling around on (click that to see the speech, I only searched for it for about 37 minutes) - I am actually Facebook messaging with him right now, asking him for some quotes, he says "I am NOT famous, I am JUST me..." I reply, "Yes, Romero, yes, I know you are just you, but to thousands you are an inspiration!" Here's what I got out of him... "I want to bring a new era in the art world, where abstract no longer has to be questioned or demised as an un-thoughtful, untrained form that just anyone thinks they can create," Romero says. "The viewer will look at my abstract work and understand what they see."
He really is an inspiration. For all of those that are struggling at making a living doing what you love - know that with persistence & practice it can happen. Romero is one of those few artist that can literally paint, or in his case I should say, "drizzle," ANYTHIING, I mean, he was here for a show last March, at our gallery, and I have him on video painting a painting he painted here - it's just absolutley incredible the talent, he also did a collaborative piece with another young emerging artist we represent, . He can do abstract, traditional, land/seascapes, figurative, still-life, name it and he can paint, or drizzle it. Romero is completely booked for 2017, and his art just keeps getting better & better. Such achievement at such a young age, he's destined to be a successful artist his entire life.
So stop in, see his work, register to win our monthly Fine Art Raffle & acquire some art - I need to buy my children Christmas presents ;) Also, make sure if you can't come in, head to our webpage and fill out the form to stay up-to-date on shows... there was mention of an upcoming Romero Show at the gallery when I was messaging with him... just saying... you probably want to sign up :)
Hope everyone is having an amazing week & talk to you all next week!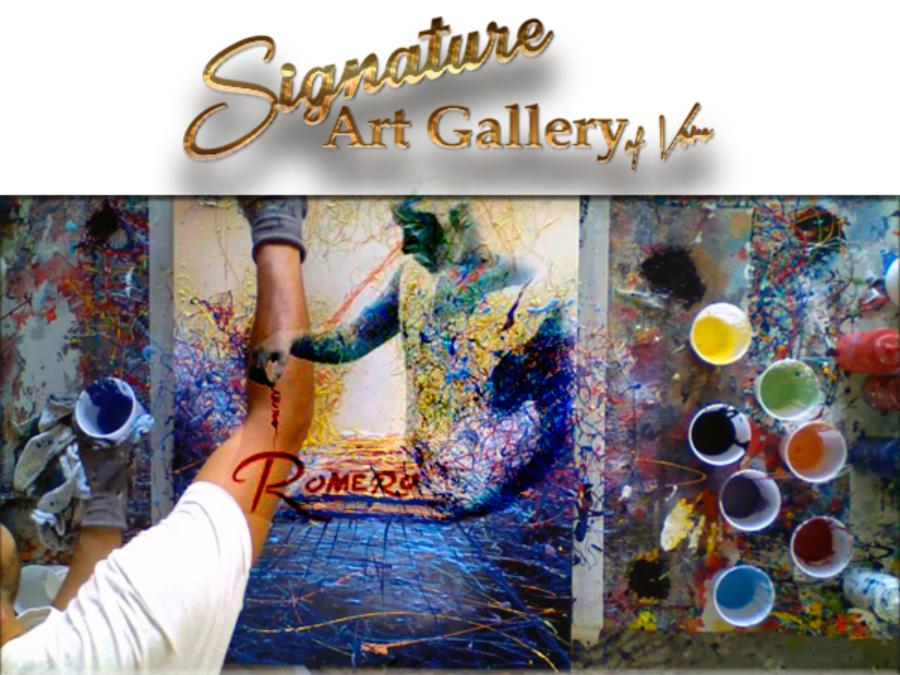 ---