Fine Art Under $200 - Why Not?!
Posted:
January 19, 2017 |
Categories:
Arts & Culture
Our website somehow got all erased, so I had to create an entirely new website in like a day. That's a lot of work... Anyway, while roaming the vast internet looking at other gallery pages, I noticed one gallery had "Art for $150 and less" - so I thought, why not? So I decided to add it to our - it is in the very beginning stages, and still many more artists will be added, but now you can a piece of artwork straight from the comfort of where ever you may be.
Please take note that some are limited editions, some are not, some are paintings, some are photography, it will tell you above each artist's . A gallery generally never puts art for sale directly from its page, because we want you to come in and spend thousands and thousands of dollars, but I also understand that some people, like myself, that work full-time, raise teenager & three year olds, and commute for work don't have time to just browse galleries, I ALWAYS am looking at while in bed waiting to fall asleep with my racing thoughts & busy mind.
Bottom line is we all want to be proud of our homes & hope they appeal to all guests that come to visit. So, please, shop our page and I may strike you an even better deal if you have multiples you are interested in acquiring - just click the and let me know, I am very easy to work with, the world is a much better place with art that eases the soul!
We also have I would like to welcome to our :
- Black & White Oil Paintings
- Award Winning Photographer semi local
- Young Emerging Photographer/Artist
- Phenomanal Photographer from St. Augustine, FL
- Young Painter with the skills beyond that of the Old Masters, created the Endless Summer License plates...
- Painter, created the illustrations for Tito Vodka, Save the Dolphin License plates, etc...
- Young Emerging Semi-Local Photographer / Collaboration of his own works & a future exhibition of his Mother's award-winning photography as well
- Another Young Emerging Photographer that just snagged a spot in Surfline's Coffee Table Limited Edition photography book
- Well traveled digital artist with works currently hanging in the Vero Beach Museum of Art
- Photographer based out of Jacksonville, FL - has already received many awards for his keen eye
- Flager Beach based young Photographer, he has a dream-like state to all his images
- Gorgeous one-of-a-kind sculpture - glass & metal - pricing is great
- Very well-known & award winning local Photographer, he's mostly known for his surfing shots, but he has way more than surfing shots to offer!
Check them all out and expect I will be doing a spotlight on them all at a later date - so as always, stay tuned and be well :)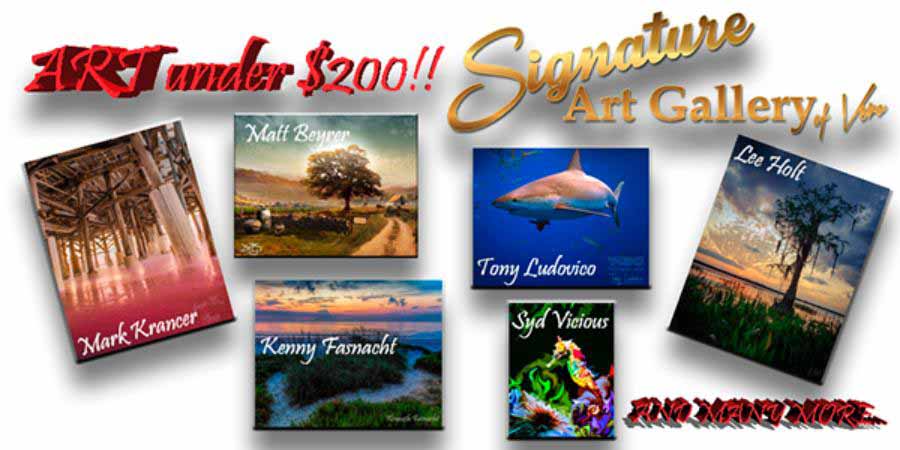 ---