Citrus

Share this page:
Vero Beach, FL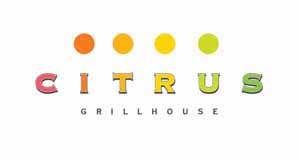 Visit Website
Citrus
1050 Easter Lily Ln
Vero Beach, FL 32963
(772) 234-4114
Email Citrus
Hours
Daily from 5:00pm to 9:00pm
Write a Review
Citrus Grillhouse recognized with top awards...
2014 Diners Choice Award, Open Table
Top 7 Restaurants in South Florida, Palm Beach Illustrated
Best New Restaurant in the State, Florida Monthly
Top 100 Al Fresco Dining Restaurants Nationwide for 2016, Open Table
Citrus Grillhouse celebrates flavor, both in the food and in the authentic Florida lifestyle. The oceanside bistro, inspired by origins of Mediterranean and Italian classic cuisine, is one of Vero Beach's favorite gathering places for locals and tourists alike. The spectacular views of the Atlantic Ocean from every seat in the restaurant provide a serene backdrop to the bold essence of the menu offerings.
Each visit to Citrus Grillhouse offers a fresh and distinctive dining experience. The menu incorporates regionally grown produce, meats, and seafood procured at the height of the harvest and combines them with thoughtful preparation and presentation. Despite the care involved in creating memorable dishes, the food is always approachable and never pretentious.
The dining room is casual and comfortable, perfect for family, friends, or business associates to come together for a remarkable meal. The full liquor, wine, and beer bar selections are designed to complement the menu selections with a wide range of classic and specialty cocktails incorporating a splash of Florida flair.
Scott Varricchio is the award-winning, nationally recognized Executive Chef at Citrus Grillhouse. Once a high profile New York Chef, he sought to bring a big city dining experience to the casual class of Vero Beach. Although surprisingly affordable and relaxed in atmosphere, Scott and his team work each day to exceed patron expectations.
If you want to know where locals go for top-notch food and equally great service, you'll find them enjoying both at the tables of Citrus Grillhouse.