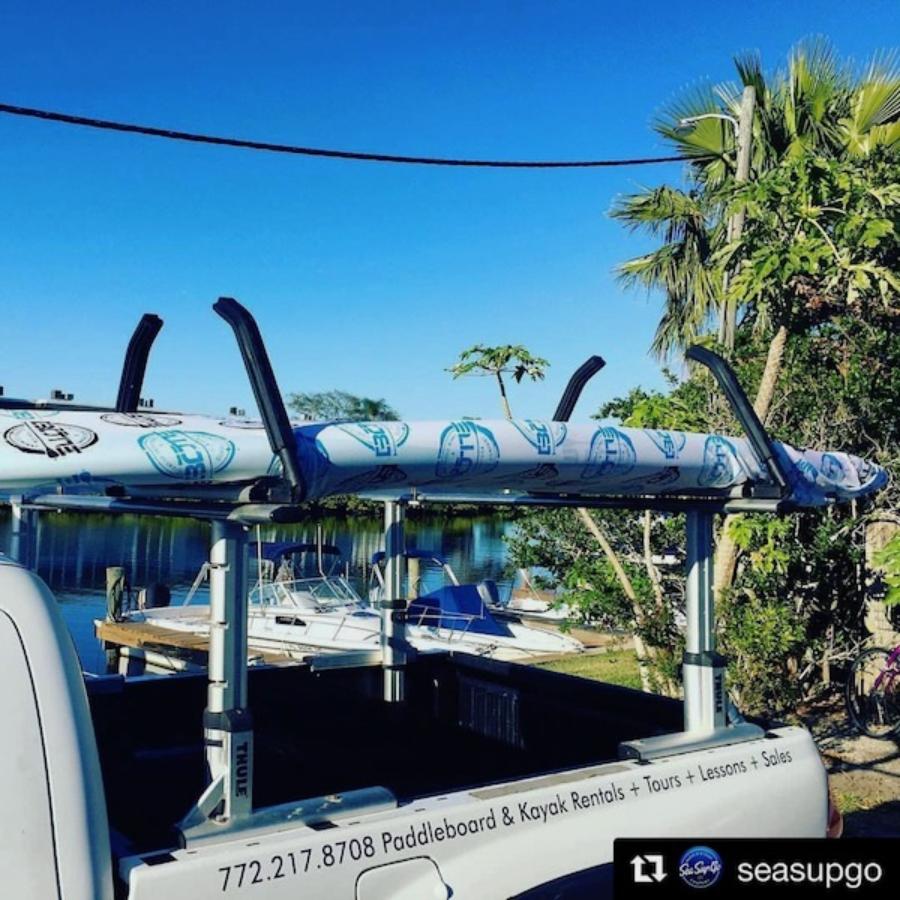 Keep Your Board Safe When You're Not On It Share this page:

Posted: June, 15, 2017 | Author: Jennifer & Barrett H | Sea Sup Go Paddle & Surf

You've recently invested in a stand up paddle board (SUP) and have visions of taking it with you on your next vacation. Before you go don't forget a security system to keep your board safe and secure when you're not on it. Fortunately, there are great options on the market in a variety of price points. First, purchase a bag for your board. Your board is less likely to be targeted by thieves if they are unable to tell what brand or type of board is in it. A bag will also keep your board cool, clean and provide UV protection from the sun. This is important for your board's longevity. Next consider what type of board security system is right for you.

There are a couple of options that attach to the paddle board. The Fin Box Lock, at $25, is one of the simplest types of security gear available for SUPs and surfboards. It's a two-piece locking system that fits in the center fin box. Once in place, a cable (not included) is fed through the locking system. Finally, secure the cable to the roof rack or something that cannot be easily removed from your vehicle. The Fin Box Lock fits into standard fin boxes and can be used whether the fin is in the board or removed. Another option is DocksLocks ($49.95). It uses either the fin box or leash plug to attach the DocksLocks "Jaws". This system also allows the fin to stay in place or be removed. The DocksLocks Complete SUP System includes a cable with customized combination lock that is fed through the "Jaws". In case you need it, the Paddle Lock is an accessory to keep your paddle secure with the board. Like the previous locking system, the cable must be attached to something that cannot be easily removed.

Another effective way to secure your board to your vehicle is to use locking tie-down straps. Kanulock Lockable Tie-downs are a great theft deterrent. Like other tie-down straps, the straps wrap around the board and roof rack to hold your board in place. Kanulock tie-down straps have buckles that are locked securely with a key. The straps are reinforced with two stainless steel cables and cannot be cut by a knife. The 13ft length, at $89.95 is perfect for securing up to two stand up paddle boards to your roof rack. Kanulock Key Vault is a small, customized combination box that attaches to your car in a variety of places. It is large enough for you to store your electronic car keys and buckle keys securely while you enjoy the water.

Locking paddle board carriers that attach to your vehicle's roof rack are another option to consider. The Thule SUP Taxi ($269.95) attaches to most factory racks and holds up to two SUPs. The carrier locks to the roof rack. Once boards are on the carrier, steel reinforced straps are secured around the boards and locked in place. Another option, the inventive LOCKRACK vehicle roof carrier was recently introduced in the US and has become an instant favorite among water sport enthusiasts. LOCKRACK does away with tie-down straps and cables by using rubberized lockable bars that adjust to the width and shape of your paddle board, then snaps into place. It also attaches to factory and aftermarket roof racks and is made of rust resistant materials. The LOCKRACK is available for one ($260) or two SUPs ($285). LOCKRACK also has carriers for kayaks, surfboards and several other watercrafts.

Sea Sup Go Paddle & Surf Company in Vero Beach carries all these great products in their shop. They can answer questions about board security and recommend which system is right for you.
---