Alan's Bicycle Center

Share this page:
Vero Beach, FL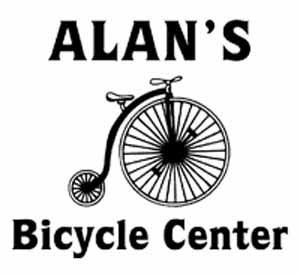 Visit Website
Alan's Bicycle Center
2020 Commerce Ave
Vero Beach, FL 32960
(772) 562-2453
Email Alan's Bicycle Center
Hours
Mon. - Fri. 9:00am to 5:30pm
Saturday 10:00am to 5:00pm
Sunday Closed

2 Reviews

Write a Review
"If you love bikes...we've got your fix!"
For nearly 30 years, Alan's Bicycle Center in Vero Beach has built a loyal following of bicycle enthusiasts by focusing on service, not high pressure sales. Believing in the concept of only doing things the right way or not doing them at all, the expert mechanics at Alan's have a reputation for quality work and repairs. For these service professionals, safety is truly first for their customers whether their first time on a bike or a highly trained competitive racer. With many flat rate service and maintenance packages available, the cost of repairs is always clearly communicated in advance. A free comprehensive bike check is available for anyone who brings a bicycle to Alan's service department for repair. Only here for a short stay, give Alan's a call to rent a bicycle.
Accessories, Parts & Bikes!
In addition to the service facilities on site, the 6000 square foot retail space in the heart of Vero's commercial district features a vast selection of bicycle apparel and accessories including shoes, gloves, and helmets. Alan's also carries the largest selection of bicycle wheels and tires in the state of Florida with many variations and sizes available. Whether you own a newer or older bicycle, Alan's stocks hundreds of hard to find parts that would typically take days or weeks to order and install, saving customers time and money. For those looking to purchase a new bicycle, quality brand such as Cannondale, GT Schwinn, Raleigh, Electra, Redline, and three wheel bicycle manufacturer Trailmate are available for test rides. The experts at Alan's will help find the road, trail or racing bike that fits your biking lifestyle.
Alan's Bicycle Center Lives and Breaths Cycling
The retail storefront is not only a beacon for all types of cyclists, but it is also a kin to a museum of antique bicycles and accessories. The walls of Alan's are lined with vintage pieces dating back several decades. Those who aren't in need of a new bike or repair services regularly stop in to gaze upon the one of kind collection. Alan's not only honors the past, but also the present and future. The staff at the shop accept donated or discarded bicycles and refurbish them for donation to local charities proving transportation or enjoyment for those in need.
For all things cycling, trust the experts at Alan's to steer you in the right direction. For more information call (772) 562-2453 or stop by the shop to speak to one of Alan's knowledgeable staff members. At Alan's, bikes are not just their business, they are their passion!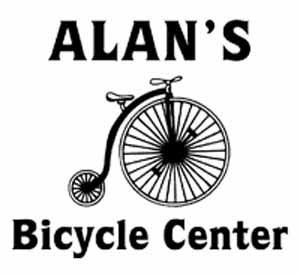 Visit Website
Alan's Bicycle Center
2020 Commerce Ave
Vero Beach, FL 32960
(772) 562-2453
Email Alan's Bicycle Center
Hours
Mon. - Fri. 9:00am to 5:30pm
Saturday 10:00am to 5:00pm
Sunday Closed

2 Reviews

Write a Review
Contact Alan's Bicycle Center
Visit Website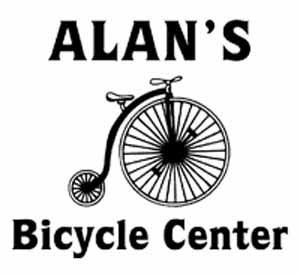 Alan's Bicycle Center
2020 Commerce Ave
Vero Beach, FL 32960
(772) 562-2453
Share this page: