Golf Carts of Vero Beach

Share this page:
Vero Beach, FL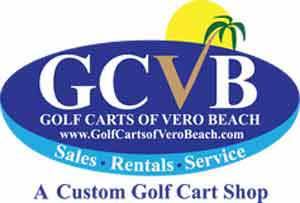 Visit Website
Golf Carts of Vero Beach
1826 US Hwy 1
Vero Beach, FL 32960
(772) 778-2278
Email Golf Carts of Vero Beach

6 Reviews

Write a Review
Golf Carts of Vero Beach: Your Custom Design Cart Shop
Rent or Buy? New or Pre-owned? Gas or Electric? 36 volt or 48 volts?
These are a few of the important questions that Tim Burklew, owner of Golf Carts of Vero Beach, ask so you get the golf cart that best meets your needs and budget. In addition, there is a huge outdoor showroom and Service Shop where you'll find a great choice of new and used carts. GCVB services the entire Treasure Coast from Stuart to Sebastian. They are family owned and operated and take great pride in providing you the perfect cart.
Want a Custom Design Cart? Become the designer of your custom golf cart. Tell Tim will what your needs are. He will show you all the options, tires, wheels, colors, electric or gas and even the speed you want your cart to travel. Or maybe it's a fiber optic ceiling with stereo and TV, plus Air Conditioning. Whatever you need, Golf Carts of Vero Beach will make it happen.
On Vacation? Special Event? Rent a Golf Cart
Street legal golf cart rentals make your Vero Beach vacation so much more fun! Rent the nicest custom golf carts on the Treasure Coast. They will deliver your street legal golf cart to your location. Perfect for weddings, parties, sight seeing or just driving to town or going to the beach. Whether you are on vacation, getting married, working, or just having fun choose Golf Carts of Vero Beach, the #1 custom cart rental company on the Treasure Coast!
Is Your Golf Cart sick?
Give the Service Department at Golf Carts of Vero Beach a call at 772-778-2278. Meet their factory trained technicians and a Repair Facility for E-Z-GO, Cushman, Bad Boy Buggy, Yamaha, Club Car, Columbia and many more. They service gasoline and electric carts and have parts in stock to quickly repair your golf cart.
Financing Available - 12 month financing same as cash!
Ask about the VIP Golf Cart Maintenance program where mechanics will come to your home to check over your cart.
For more information visit our website: www.GolfCartsOfVeroBeach.com or see our
Facebook page: Golf Carts of Vero Beach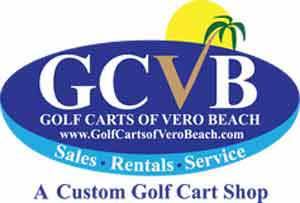 Visit Website
Golf Carts of Vero Beach
1826 US Hwy 1
Vero Beach, FL 32960
(772) 778-2278
Email Golf Carts of Vero Beach

6 Reviews

Write a Review
Contact Golf Carts of Vero Beach
Visit Website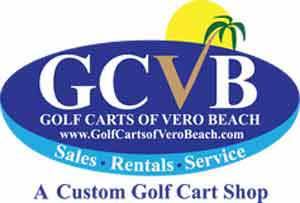 Golf Carts of Vero Beach
1826 US Hwy 1
Vero Beach, FL 32960
(772) 778-2278
Share this page: