City of Vero Beach
Vero Beach is a gentle, sophisticated and unpretentious town. In recent years, this area has become home to America's cultural and corporate elite. It's a place where high level business deals are made on a handshake during a round of golf... new friends are easily met at the many and diverse area activities... and spirits are renewed through abundant recreational opportunities available in this lovely tropical climate.
Homey, yet casually elegant, Vero Beach and Indian River County attracts visitors and residents because of the cultural wealth and inherent natural beauty of the area. Vero Beach was rated the "Best Small Town in Florida & 12th in the Nation" and was named one of "The 100 Best Art Towns in America." Known as the "Gateway to the Tropics," Vero Beach is located in a climatic transition zone that offers an unusual mix of vegetation found in the coastal Carolinas – ancient oak trees and pine forests – blended with swaying palms and colorful blooms typical of the tropics. The area is also recognized as the 'Citrus Capital of the World,' producing the finest Indian River citrus for the domestic market and worldwide export.
Vero Beach is the county seat of Indian River County. According to the U.S. Census Bureau's 2009 estimates, the city had a population of 17,094. It is the Principal City of the Sebastian-Vero Beach Metropolitan Statistical Area, which is home to 130,100 plus people.
Vero Beach may be best known as the location of Dodgertown, where the Los Angeles Dodgers baseball team held their spring training camp from 1948 until 2008, and where the minor league Vero Beach Devil Rays play during their regular season. Piper Aircraft Inc. builds aircraft here. Major industries include citrus fruit packing and tourism.
According to the United States Census Bureau, the city has a total area of 12.93 square miles. 1.85 square miles of it is water (14.31%). The city is divided by the Indian River Lagoon into the mainland on one side and the oceanfront barrier island on the other. The island's population consists of wealthy vacation dwellers and well-to-do year-round residents. Restrictive zoning has allowed the island to repel attempts to develop high-rise hotels and large commercial centers, so it maintains a quiet, residential atmosphere.
According to the World Almanac and Book of Facts, Vero Beach is at the eastern end of a demarcation line that separates Florida's climate into two zones, to the north of the town has a humid subtropical climate and a tropical climate to the south. From Vero Beach, this line stretches straight across the state, with Bradenton, FL on the western end of the demarcation line.
Vero Beach is known for its outstanding beaches. Part of Florida's Treasure Coast, the beaches combine excellent sand quality with significant surf and tidal action. Vero's main public beach is known as South Beach, accessible at the eastern end of Causeway Boulevard, State Road 656. Other public beaches include Humiston Park, in Vero's Central Beach Business District, and Jaycee Park and the adjacent boardwalk extending southward approximately 2/3 of a mile along Ocean Drive. Vero Beach also has numerous other public access trails and walkways permitting beach access.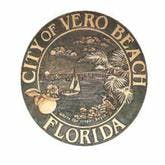 City of Vero Beach
1053 20th Place, Vero Beach, FL 32960
ph:
(772) 978-5151
Vero Beach is a full-service City. All traditional city services such as police, public works, and recreation are provided. In addition, the City of Vero Beach operates water and sewer plants, solid waste collection department, regional airport and marina.